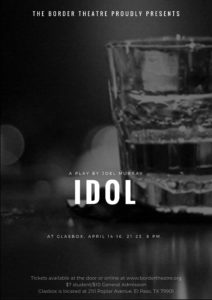 The Border Theatre is proud to announce Idol, written by Joel Murray
Marlon Brando unexpectedly visits Montgomery Clift in an attempt to save him from a monstrous addiction problem following a disfiguring car wreck. In the course of one night the two iconic and enigmatic actors explore the fears and passions that drive them and define all of humanity.
For mature audiences only.
Idol runs two weekends, Apr 14-16 and 21-23  at Glasbox, 210 Poplar St.
Performances start at 8 PM Fridays and Saturdays, 5 PM on Sundays. Doors open 1 hour before the show. Tickets are $8 online/$10 at the door.
Due to mature themes and language, this show is not recommended for young children.
For more information, please contact The Border Theatre at (915) 412-5283 or info@bordertheatre.org.
---
FAQs
Do I have to bring my printed ticket to the event?
Bringing your printed ticket is preferrable, but not necessary. Your name will be on a guest list at the door.
Will there be tickets available at the door?
Yes, tickets will be available at the door. However, due to limited seating you are encouraged to purchase tickets ahead of time. We accept cash and credit cards at the door.
How do I get to Glasbox?
From I-10, take the Piedras exit and go south on Piedras St. then take the off-ramp to Texas Ave. Immediately at the end of the off-ramp is Poplar St. Make a right, and you're there.
From downtown, travel east on Texas Ave. until you get to the end. Poplar St. is one block after Texas joins with Alameda Ave. You will see an off-ramp for traffic in the opposite direction. Make a left right before you reach the bottom of the ramp and you'll be there.