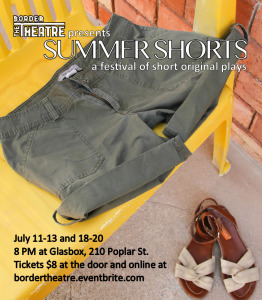 The Border Theatre is proud to present:
Summer Shorts
July 11- 13 and 18-20 at Glasbox
Summer Shorts is a production of short plays developed through the Play Reading Series.
The Border Theatre began the Play Reading Series in January in order to help local writers develop new plays in collaboration with local actors and with the directorial guidance of Austin Savage and Carlos Rubalcava, founding members of The Border Theatre. The Play Reading Series helps playwrights create a new work beginning with an idea and ending in a staged production. Writers are given a platform for exploring their ideas through feedback from the actors, audience members, and directors.
Summer Shorts performances are Friday through Sunday, July 11-13 and July 18-20 at 8 pm each night at Glasbox, 210 Poplar St. Tickets are $8 general admission and will be available at the door and online at bordertheatre.eventbrite.com
Some of the plays contain adult themes, strong language and partial nudity and may not be suitable for children.
Seating is limited and is General Admission only, so you are encouraged to get your tickets early and arrive at the venue at least 15 minutes before the show starts.
---
How do I get to Glasbox?
From I-10, take the Piedras exit and go south on Piedras St. then take the off-ramp to Texas Ave. Immediately at the end of the off-ramp is Poplar St. Make a right, and you're there.
From downtown, travel east on Texas Ave. until you get to the end. Poplar St. is one block after Texas joins with Alameda Ave. You will see an off-ramp for traffic in the opposite direction. Make a left right before you reach the bottom of the ramp and you'll be there.