The Border Theatre is proud to present: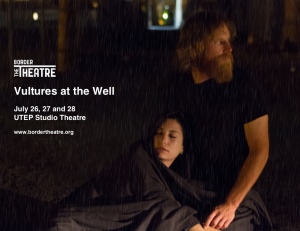 Vultures At The Well
July 26, 27 and 28 at the UTEP Studio Theatre (first floor of the Fox Fine Arts building).
Vultures at the Well is a modern myth that combines elements of scripted drama, devised theatre, dance, and improvisation in recounting the tale of a mother who challenges the gods in order to get her son back. The show is The Border Theatre's first full-length original narrative which, in the ensemble's tradition, combined the talents of several writers, directors, choreographers, and performers to create it.
Performances will run Friday July 26 through Sunday July 28 at 8 PM each night. There will also be matinee performances on Saturday July 27 and Sunday July 28 at 2:30 PM.
Tickets are $10 and are available at the door, online at bordertheatre.eventbrite.com, or on your mobile device through the Eventbrite app . The Saturday matinee is FREE to the public.
Seating is limited and is General Admission only, so you are encouraged to get your tickets early and arrive at the venue at least 15 minutes before the show starts.
Vultures at the Well is made possible with the support of the City of El Paso Museums and Cultural Affairs Department and the Texas Commission on the Arts.
For more information please contact The Border Theatre at (915) 412-5283 or info@bordertheatre.org
How do I get to the UTEP Studio Theatre?
The easiest way is probably to park at the Sun Bowl Parking Garage on Sun Bowl Dr. The Fox Fine Arts building is next to it. Enter the building and take the elevator down to the first floor.
Click here for a map of the campus.
Please note the following changes to campus access:
University Avenue entrance off Mesa is closed permanently.
Schuster, between Mesa and Sun Bowl Drive, is closed for construction temporarily.
Sun Bowl Drive will be under construction but still passable.
From Mesa, take Sun Bowl Drive to University (traffic circle).
From I-10 East, exit Schuster/UT El Paso, turn left under freeway at bottom of the exit
ramp, and turn left at the next traffic light onto Sun Bowl Drive to University (traffic circle).
From I-10 West, exit Schuster/UT El Paso, at the traffic light, go straight (you're already on Sun Bowl Drive) to University (traffic circle).