Exhibitions in Dis/Connection 2012
The Border Theatre is proud to present: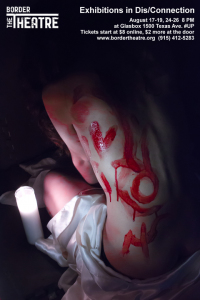 Exhibitions in Dis/Connection 2012
The Border Theatre announces the third annual Exhibitions in Dis/Connection starting on August 17, at Glasbox.
In previous years, The Border Theatre has featured local works as well as award-winning pieces in this yearly performance of theatre, music, dance, and art that reflects the collaborative nature of the Glasbox, a large non-traditional space that houses local artists and businesses.
This year, artists of different mediums were invited to create their own concept with three words as a source. Exhibitions in Dis/Connection will present the various works created.
There will be a reception on opening night before the show and live music following each performance.
Performances will run August 17-19, and August 24-26 at 8 PM each night, and will be held at the Glasbox, at 1500 Texas Avenue (entrance is on Langtry St.). Tickets are available at www.indieticketz.com, starting at $8 for general admission, $17 VIP. Tickets at the door will be $2 more.
For further information, please visit www.bordertheatre.org or contact the Border Theatre at: info@bordertheatre.org or 915.412.5283.
Musical guests:
Fri 8/17 : Ross Fleming / The Dismissal / Our Friend the Mountain
Sat 8/18 : Tony Vein / Emily Hardtke / DubCartel
Sun 8/19 : Omar Cuellar / The Dismissal / Micah Lindsey
Fri 8/24 : medvěi / The Aykroyds / Dasein
Sat 8/25 : Emily Hardtke / Micah Lindsey / He Has the Cancer
Sun 8/26 : Bumpstreet Fonanza / Robert Shawn / Emily Davis
Artists for the show include:
Alfredo Jaregui
Carla Zabalegui
Patricia Carrete
Efren Solorzano
Cynthia Evans
Cleo McLutz
Patrick Walker
Esteban Marquez
Aaron Martinez
Brother Rat
Purchase Tickets Online
$8 – General Admission
$17 – Reserved seating + Exhibitions T-shirt + Attendance to an extra show