Exhibitions in Dis/Connection 2011
The Border Theatre is proud to present: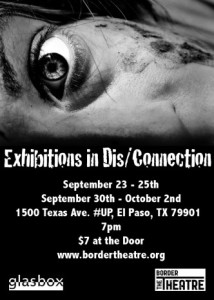 Exhibitions in Dis/Connection 2011
Capture the innovative work of The Border Theatre with Exhibitions in Dis/Connection and help the company celebrate their one year anniversary!
The event integrates art installations, sound design and dance with award-winning ten-minute plays which bleed fluidly together under a unifying principle conceived and established by the The Border Theatre performance ensemble members. The interceding outside works and installations directly influence the production concept as well as the daily performance.
Included are two plays from award-winning playwright and former El Pasoan Ryan Dowler. His heartbreaking tale of loss, Maria or a Lullaby for a Cat and his touching, yet riotous Omar are highlights of the show along with the Heidelman Award-winning 3:59 AM by Marco Ramirez.
As a special thank you to the supportive El Paso community, Thursday September 22nd, 2011 will be a "Pay-What-You-Can-Performance." Attendees will be able to pick their own price for admission to the event for this one night only.
Exhibitions in Dis/Connection runs September 22nd-25th and September 30th-October 2nd. It will be performed at Glasbox, 1500 Texas Ave, #Up. Doors open at 7 PM.
Tickets are $7 (except September 22nd) and can be purchased by cash at the door with 10% of all monies raised at the door to be donated to the Sunset Heights Block Party. Military, firefighters, and police officers receive free admission on Sundays.
Advanced tickets are also available online for only $5 at TicketBully.com.
The venue is located on the corner of Texas Avenue & Cotton Street in El Paso, TX. The space is accessible through a side door on Langtry Street. Street parking will be available.
Food will be made available to the general public for consumption. A reception is scheduled before all shows and live music will follow each night.
For more information please contact The Border Theatre at 915-412-5283 or info@bordertheatre.org.
Friday, September 30th
Karla with a K
Jen Shugert
Ray Ramos
Josh Colby
John Eivins
Saturday, October 1st
McKinnley Cougar
Krystal Oblinger
Jim Iholtz
Sunday, October 2nd
Adelmar Ramirez
Serenity Garcia
Contributing Artists: elnumerotres, akawiljafar, Bobby Gallagher, Eurydice Saucedo, Refractive Elements
Musical Acts:
9/30: Justin Stone, Touchtone Telephone, The Smash
10/1: Ross Fleming, Greg Sosa, The Un-Named Improv Trio
10/2: Emily Davis, Our Friend the Mountain
Purchase Tickets Online
Friday September 23
Saturday September 24
Sunday September 25
Friday September 30
Saturday October 1
Sunday October 2