An Evening with Ned Shapiro
The Border Theatre is proud to present: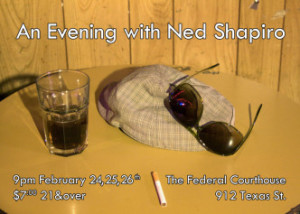 An Evening with Ned Shapiro
He's broken hearts and bellowed out ballads.  His performances have led to standing room only performances from Oxnard, California to Omaha, Nebraska and The Border Theatre is proud to have booked him for his El Paso debut. Our first guest artist performer will make you laugh, cry, and shake your hips. Come spend an evening with Ned Shapiro as he waxes poetically on the greatness of his life and his search for love.
In order to accommodate the needs of Ned we are presenting his one man cabaret show at The Federal Courthouse Bar & Grill, located at 912 Texas Ave.
A $7 cover is all you need for an incredible evening of song and storytelling. Performances are February 24, 25 and 26 at 9 PM.
For further information please contact The Border Theatre at 915-412-5283 or info@bordertheatre.org.
Thanks for your support!